Overview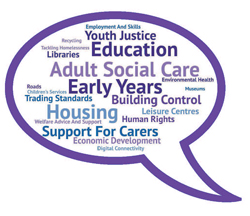 Clackmannanshire Council has published a number of options which represent reductions and changes in services.
More information about these options can be found on the council's website.
Why your views matter
Difficult and important decisions need to be made in order to make sure that the Council meets its legal requirement to set a balanced budget and is able to deliver those services which it is legally required to.
Over the last seven years, the Council has made savings of around £35m. The Council's current budget is £118m and after making savings of around 30% over that period, it is increasingly difficult to find savings which will not impact on individuals and communities.
To inform the process of budget setting by councillors, Council officers have put forward a range of options which span many aspects of current service provision.
Some of these options would result in reductions of service from existing levels. Such options are available because the Council provides some services which by law it isn't required to and it also provides some services to higher levels than are required by law.
Officers have also put forward a range of management efficiency options, which should not impact on front-line services, as well as options to dispose of land and property to cut costs and bring in more income.
There are also officer options to change the way in which some services are delivered in order to reduce costs and improve outcomes.
The options are set out in this booklet alongside an indication of the level of savings which would be achieved if councillors accepted them. Officers are continuing to work to identify any further options and these will be added to the consultation as they are developed.

Your views are sought on the impacts any of the savings options put forward by officers would have on you or your community.
No decisions have been made and none will be taken by councillors until after the consultation is complete.